How to Get Certified/Conformed JFS
Please note that the acquisition process of JFS Certification/Conformity Assessment on this page is provided to illustrate one of the examples of the model cases. The actual process may vary. For details regarding the time and cost required to get JFS Certification/Conformity Assessment (including consultation) at your company (organization), please reach out to certification bodies, audit companies, or food-safety consultation service providers. Consultation is optional activity and is not always required for the acquisition of JFS Certification/Conformity Assessment.
Overview of the Acquisition of JFS Standard Certification/Conformity Assessment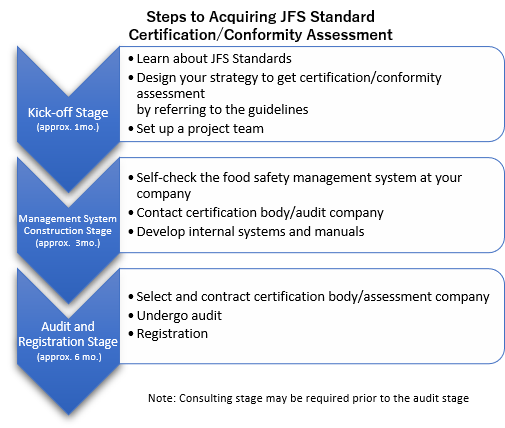 Flow and specific procedures for each stage
The following sections describe the flows and procedures for acquiring certification for JFS-C Standard and conformity assessment for JFS-A/B Standard. First is the kick-off stage.

Step 1: Learn about JFS Standards
JFSM publishes documents for all JFS Standards and are available on JFSM website:
・Standard Documents (Requirements for Organizations (FBOs))
・Program Documents (Documents that describe the system of standards and certification management mechanisms)
・Guidelines (documents that contain case studies and concepts of what the organization should do specifically)
First of all, please refer to these documents to learn an overview of the JFS standard (see these documents here)
Step 2: Design your strategy to get certification/conformity assessment by referring to the guidelines
Based on Step 1 (above), please choose the JFS certification/conformity assessment for your company (organization).Depending on certification/conformity assessment to be acquired, the time to the acquisition, the number of manuals to be prepared, acquisition costs, etc., may differ.
Step 3: Set up a project team
Select internal members to promote the acquisition of certification/conformity assessment.Make sure to clarify the responsibility structure to coordinate both inside and outside your company (organization) and manage the progress.

Step 1: Self-check the food safety management system
JFS-A and JFS-B Standard Documents include the checklists for your self-assessment. You may use these to check the status of each requirement.For JFS-C, please conduct a self-assessment by referring to each requirement of JFS-C Standard Document.
Step 2: Contact Certification Body/Audit Company
Please contact certification bodies (CBs that operates JFS-C Standard certification) or audit companies (ACs that operates the JFS-A/B standard conformity assessment), which have been registered and publicized by JFSM (see here for the list of registered CBs/ACs), and check the details of the procedures and the cost of acquiring the certification/conformity assessment.Since CBs/ACs are differentiating each other, it is recommended that you choose the one that best meets your company's (organization's) expectation.
Step 3: Develop internal systems and manuals
After confirming the current internal provision, operational procedures, and management methods, please establish critical systems and manuals for acquiring certification/conformity assessment. Make sure to clarify what needs to be done, and set a specific schedule for who, when, what, and how.Once the management system has been established and adequately implemented, CB/AC can conduct an actual audit.

Step 1: Select and contract CB/AC
Please have a written audit agreement with CB/AC, selected in the "Management System Construction Stage."
Step 2: Undergo audit
CB/AC conducts an audit at your company (organization) based on the agreement.
Step 3: Registration
If CB/AC decides that your company (organization) is certified/conformed to JFS Standard based on the audit results, CB/AC issues a letter of certification/conformance. After receiving notices from your CB/AC, JFSM checks the contents and publishes the information about your JFS certified/conformed organizations. Finally, certification/conformity assessment is valid for three years. After acquiring certification/conformity assessment, "annual regular audit" and "recertification audit in every three years" are conducted. Therefore, your company (organization) should operate an appropriate food safety management system continually.